Photoluminescent Sign Holders
Glow-In-The-Dark Sign Holders
A sudden storm or a man-made disaster can easily knock out power and throw your building, its evacuation routes and safety signs into total darkness.
Pictographix photoluminescent (PL) technology allows building evacuation plans, exit signs and path marking systems to illuminate the direction direction following a power failure
EvacGlow sign holders illuminate your evacuation diagrams following power failures.
A high-glow photoluminescent backer is incorporated into our PL casements allowing for illumination of the evacuation graphics for hours!
(after 10 minutes in darkness (ASTM/DIN), our PL displays provide over 200 mc/m² illumination - the highest available on the market)
Upgrade your standard evacuation diagrams so they can be visible during a blackout.
Simply print your graphics to clear film transparencies and place artwork into a High-Glow PL Casement.
PLIN - Aluminum Trim Casement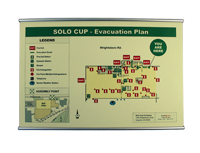 • Matte aluminum frame & back (custom-cut)
• Clear non-glare 3/16'' plastic lens cover
• Hidden mounting holes
• Pre-drilled or mount with VHB tape (extra)
• Holds transparency print insert (extra)
PLAL - Solid Aluminum Casement