Evacuation Plan Sign Holders
Your Source for Quality Evacuation Plan Holders
A one-stop shopping solution for evacuation plan sign casements and holders.




All our displays can be customized to meet your budget or aesthetic requirement.




Sign holders accept paper or prints to vinyl, PVC or acetate (clear film).




Artwork prints can be easily exchanged if floor plan updates are required.




Don't let a power failure thrust your safety sign into darkness!


We supply the largest selection of high-glow Photoluminescent Safety Sign Holders (Glow-In-The-Dark).
QC - Quick Clip Casement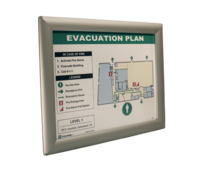 • Snap open aluminum trim
• Black, silver or wood grain trim
• Hidden mounting holes
• Holds paper print insert (extra)
SL - Slide-In Casement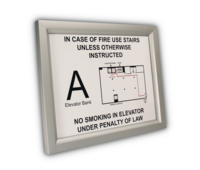 • Artwork slides in from the top
• Black or silver aluminum trim
• Hidden mounting holes
• Holds paper print insert (extra)
AL - Aluminum Casement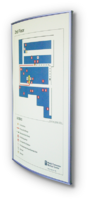 • Solid aluminum extrusion - Curved profile
• Anodized silver finish (black or gold option)
• Hidden mounting holes
• A wide variety of sizes available (custom-cut)
• PVC or aluminum end caps
• Holds paper print insert (extra)
Glow-in-the-Dark option available
IN - Infinity Casement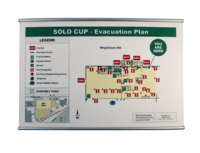 • Matte aluminum frame & back (custom-cut)
• Clear non-glare 3/16'' plastic lens cover
• Hidden mounting holes
• Pre-drilled or mount with VHB tape (extra)
• Holds paper print insert (extra)
Glow-in-the-Dark option available
INMAG - Infinity Mag Frame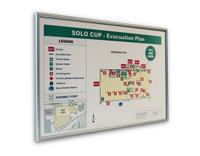 • Aluminum casement
-Removeable magnetic trim
• Hidden mounting holes
• Pre-drilled or mount with VHB tape(extra)
WF - Wood-like Frame