Evacuation Plan Print Services
Print Services
Pictographix design and manufactures thousands of custom safety signs for clients annually. We also print client-provided artwork. To receive a quote for your project where the artwork is ready-to-print, simply complete our Quote Request form online. Upload a sample of your artwork (high resolution JPEG) for our review and a firm quote will be forwarded in 24-48 hrs.
Quality prints delivered to your door!
Employing the latest UV cured printer and CNC router cutting technology, placards are manufactured to any size or shape. Quality eco-friendly inks produce stunning images to vinyl stickers, acrylic, metal or PVC.
Precision cut signs (CNC router) - pre-drilled and rounded corners.
Decorative - Sub-surface print to acrylic (AGE): Glass-like appearance; 1/4" - 3/8" acrylic.
Durable - Sub-surface print to acrylic (AC): 3/16"; waterproof, vandal resistant.
Metal - Brushed Aluminum (BRAL) or White Aluminum (WAL): 1/8" DiBond composite aluminum.
Plastic - Sintra (S): 1/8" white PVC.

Paper (PP): poster paper up to 36" x 48"
Stickers (ST): prints to self-adhesive backed vinyl for Glass or wall application
Mounting hardware options.
Metal Screw Caps (SC): Metal screw-down caps with matching screws; Nickel or Brass.
Stand-Off (SO): Stainless steel stand-off mounting system, metal cap & spacer; various sizes.
Very High Bond Mounting Tape (TAPE): VHB tape with release liner; for or wall application.

Description:

- Wide format; flat bed, digital printing
- Prints up to 4' x 8'
- UV Cured inks (Indoor/Outdoor use)
- Prints to virtually any media.

Media:

- Acrylic
- Sintra (PVC)
- Aluminum (Di-bond)
- Foam Core / Paper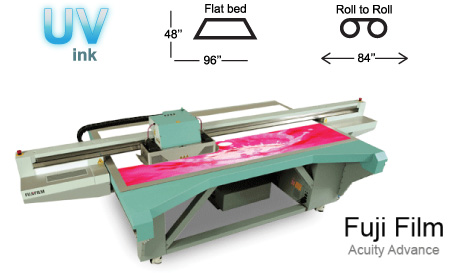 Description:

Placards cut to any size and shape.
Rounded corners and pre-drilled
mounting holes included.


Media:

Acrylic
Sintra
Aluminum (Di-bond)
Foam Core