Evacuation Map Print Services
Pictographix designs and manufactures thousands of custom safety signs for clients annually. To receive a quote for your project, simply complete our Quote Request form online.
Quality prints delivered to your door!
Employing the latest UV cured printer and CNC router cutting technology, placards are manufactured to any size or shape. Quality eco-friendly inks provide stunning images when printed to vinyl stickers, acrylic, metal or PVC displays.
CNC-cut signs - pre-drilled & rounded corners:
Decorative - Sub-surface print to acrylic (AGE): Glass-like appearance; 1/4" - 3/8" acrylic.
Durable - Sub-surface print to acrylic (AC): 3/16"; waterproof, vandal resistant.
Metal - Brushed Aluminum (BRAL) or White Aluminum (WAL): 1/8" DiBond composite aluminum.
Plastic - Sintra (S): 1/8" white PVC.
Wide formate print services:
Paper (PP): poster paper up to 36" x 48".
Stickers (ST): prints to self-adhesive backed vinyl for Glass or wall application.
Foamcore (FC): prints to lightweight paper-faced foam board.
Mounting Hardware Options
Metal Screw Caps (SC): Metal screw-down caps with matching screws; Nickel or Brass.
Stand-Off (SO): Stainless steel stand-off mounting system, metal cap & spacer; various sizes.
Very High Bond Mounting Tape (TAPE): VHB tape with release liner; for or wall application.

Description:

- Wide format; flat bed, digital printing
- Prints up to 4' x 8'
- UV Cured inks (Indoor/Outdoor use)
- Prints to virtually any media.

Media:

- Acrylic
- Sintra (PVC)
- Aluminum (Di-bond)
- Foam Core / Paper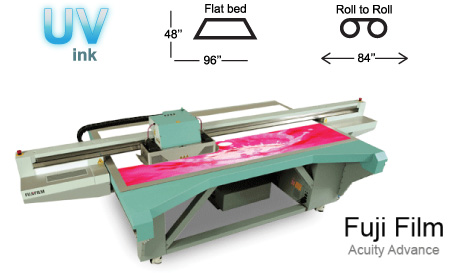 Description:

Placards cut to any size and shape.
Rounded corners and pre-drilled
mounting holes included.


Media:

Acrylic
Sintra
Aluminum (Di-bond)
Foam Core