How We Design Building Evacuation Maps
For over 20 years, Pictographix has designed and fabricated thousands of emergency evacuation signs for U.S., Canadian and international clients. Our clients trust us to create the most important safety signs in their facility.

Having designed building evacuation diagrams for just about every facility type and size, we can create a custom design tailored to your facility.
One-Stop EvacMap services include:
Free consultation.

Free detailed quotes.

Re-drafted floor plans of your facility & professional sign layout.

Color elements added to highlight egress/non-egress areas.

Unlimited labeling of fire, safety equipment and fire exits.

Custom safety icon design.

Custom building evacuation diagrams

with "YOU ARE HERE

".

Labeling of primary and secondary evacuation routes from each sign locator.

Symbols legend itemizing all map icons.

Site Maps indicating

Assembly Areas / Meeting Points.

Corporate branding / logo placement on diagrams as needed.

All artwork delivered as PDF files for archiving.

Large selection of evacuation map print and sign holder options.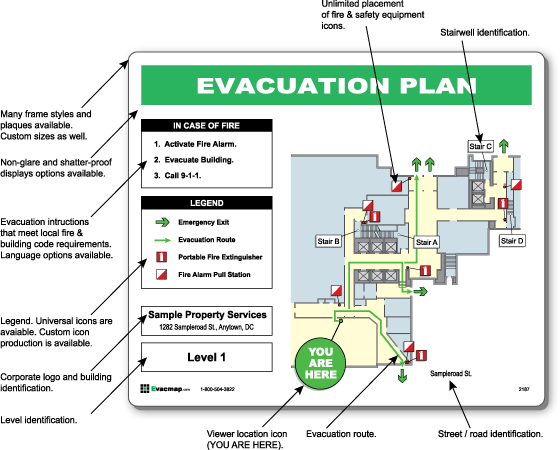 ---
Call today and speak with a friendly representative: 1-800-504-3822