School, College & Dormitory Evacuation Maps
As with most public use facilities, your local fire code will require posted emergency evacuation diagrams throughout the facility. The information presented on the diagram, its size and wall location will vary according to the local fire ordinance requirements as well as the requirements of your Emergency Action Plan/Fire Plan.
Developing an Evacuation Diagram Program for your school?
Consider a durable, easy to maintain and vandal resistant sign display.
Post evacuation maps in hallways and high-traffic areas (cafeteria).

In some jurisdictions, evacuation diagrams are required in each classroom.

Consider the sign and font size for optimum legibility (min. size requirements in California).

Vandal-resistant durable signs are highly recommended.

Fasten evacuation signs using screws (required in some jurisdictions).

Indicate your post evacuation assembly area - Mini Site Map.

Dormitories are classified as Transient Occupancy Buildings and require a building evacuation diagram in each room.
Indicate a mini Site-Map on your diagrams:
The site map indicates the building footprint, adjacent buildings and roads and the location of the post evacuation "Assembly Area" or "Meeting Area". Following an evacuation, the building occupants can congregate at a designated assembly areas where Floor Wardens can perform a head-count.

Indicating Severe Weather Shelters:
Facilities located in areas with sever weather should consider indicating Severe Weather Shelters or Areas of Refuge on evacuation diagrams.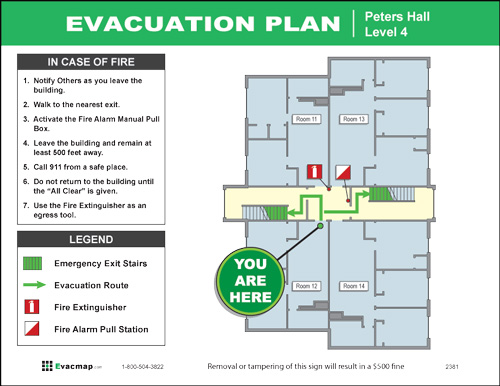 Free Quotes —

Expert Service - Quality Signs
For over 18 years, Pictographix has provided thousands of code compliant building evacuation diagrams to educational institutes across North America. Custom evacuation diagrams, quality placards and sign holders are available to suit all budgets or aesthetic requirement.
To receive a free no-obligation quote, simply complete the Quote Request Form indicating the required products the and forward us a copy of your floor plans. A quote is usually forwarded in 24 hours; it's that simple!
All projects are securely archived for future revisions or sign replacements.
Call 1-800-504-3822 or email us at info@evacdisplays.com for free consultation.