School, College & Dormitory Building Evacuation Maps
Each year we ship thousands of building evacuation signs to schools, colleges and universities across the country.
Pictographix emergency evacuation diagrams are tailored to meet your emergency action plan requirements. The viewer locator (You Are Here), fire exits and egress routes to exits are prominently featured on re-drafted floor plans. All aspects of the Evac Map diagram, including the floor plan scale, colors and font size, are designed to achieve maximum legibility while delivering your important safety instructions.
Turn-key signage solutions are offered to economically and efficiently display your safety information to staff and students.
We provide a wide range of building evacuation plan sign displays to meet any environmental or aesthetic requirement.
How do I get a Quote for My Building Evacuation Map Project?
Determine the location and quantity of EvacMap signs required.
(note that dormitories are Transient Occupancies and require an EvacMap in each room)
Determine if fire safety information (equipment/instructions) are required on diagrams.
Select a sign display and fastening option (Vandal resistant signs are recommended).
Determine if Severe Weather shelter labeling is required on diagrams?
Are earthquake instructions or post evacuation Assembly Areas required on diagrams?
Complete the Quote form and send us your requirements.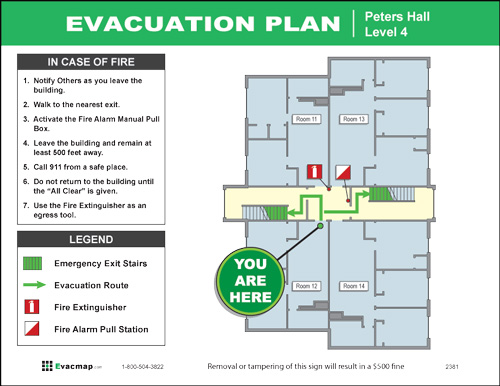 Site-Map and Assembly Areas
A mini Site Map with your Assembly are can be indicated on your evacuation diagrams. The site map shows the building footprint, adjacent buildings and roads and the location of the post evacuation "Assembly Area" or "Meeting Area".

Severe Weather Shelters
Facilities located in severe weather regions should allocate safe Areas of Refuge for building occupants. These areas can be labeled on evacuation diagrams; a safe areas can be any room inside a building that has reinforced wall (concrete) and no windows.
---
To receive a free no-obligation quote, simply complete the Quote Request Form indicating the required products the and forward us a copy of your floor plans. A quote is usually forwarded in 24 hours; its that simple!
All projects are catalogued and securely archived so if future revisions or sign replacements become necessary, we can easily create new signs as needed.
Call 1-800-504-3822 to speak with a project manager or
Send us project details to receive a Free Quote!
---