Manufacturing/Warehouse Building Evacuation Maps
Having designed and produced evacuation signs for manufacturers and food processing plants we understand the challenges surrounding wayfinding, safety data legibility and display requirements.
For large facilities, our "Zoned EvacMap" layouts are carefully designed to maximize text, floor plan and safety data legibility. Each EvacMap highlights egress and non-egress areas including immovable machinery. And since we're in the printing business, all placards can be customized to meet specific needs; oversized prints (up to 36" x 48") are available to overcome legibility issues. 

Signs installed in "clean rooms" or "wash-down" areas (wet rooms) can be printed to waterproof placards that are mounted with stand-off hardware to assist with maintenance and to mitigate mold build-up behind the sign.
Demanding manufacturing environments can choose from several sign materials where artwork is printed to acrylic, metal or PVC. Signs are precision-cut using CNC routers that provide radius corners and pre-drilled mounting holes as needed.
Graphic Solutions for Large Facilities (>50,000 sq. ft./level):
- Floor plans sectioned into egress zones with at least 2 evacuation routes to exits or
- Post larger diagrams and signs for floor plan and safety data legibility.
   (ask about our large size metal & acrylic placards)
 
Sign Solutions for Demanding and High Humidity Environments:
- Impact Resistant and Waterproof sign substrates - Acrylic, PVC or Metal.
- To simplify maintenance and mitigate mold build-up - 

Stand-Off hardware

 .
 
Solutions for Post Evacuation Assembly Area or Muster Point labeling:
- Mini Site-Map provided on all diagrams highlighting the Assembly Area, building foot print and road access.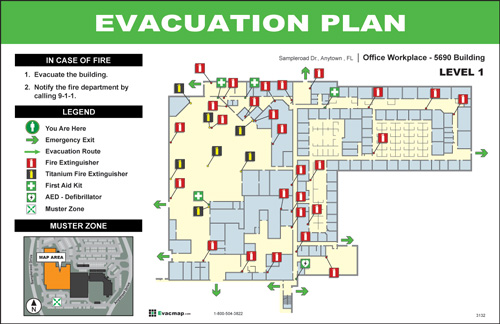 Post an Evacuation Map in your Lobby/Front Entrance.
An evacuation map at the entrance area will provide First Responders access to vital information about your facility. Information such as the floor plan details for search and rescue or the location of utility shut-off points and hazardous chemicals provide invaluable support during an emergency.
---
Call 1-800-504-3822 to speak with a project manager or
Send us project details to receive a Free Quote!
---