Manufacturing/Warehouse Building Evacuation Maps
When developing evacuation diagrams for a warehouse or manufacturing facility with a large scale floor plan, consideration must be given not only to your "safety message" but also to the sign size and material. 

A large facility evacuation diagram indicating safety equipment and egress routes can indicate a full floor plan or show only relevant floor plan sections. Either way, a suitable sign size must be selected to avoid floor plan and text legibility issues.

As with any sign project, your choice of material will determine the sign longevity. Sign maintenance and durability should be considered. When placing signs in a high humidity environment or if walls are washed regularly, consider mounting hardware that mitigates mold build-up.

Graphic Solutions for Large Facilities (>50,000 sq. ft./level):
- Floor plans can be sectioned (map zones) or
- A full floor plan layout can be depicted (poster size prints available).
  
Sign Solutions for demanding or High Humidity Environments:
- Choose an impact resistant or waterproof sign substrates: Acrylic & Metal.
- To mitigate mold build-up in high humidity, use: 

Stand-Off hardware

.
 
Post Evacuation Assembly Area / Muster Point labeling:
- Indicate a Site Map with Assembly Area, building foot print and road access on diagrams.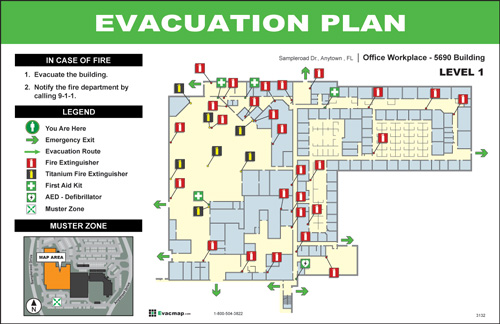 Post an Evacuation Map in your Lobby/Front Entrance.
An evacuation map at the entrance area will provide First Responders access to vital information about your facility. Information such as the floor plan details for search and rescue or the location of utility shut-off points and hazardous chemicals provide invaluable support during an emergency.
---
Call 1-800-504-3822 to speak with a project manager or
Send us project details to receive a Free Quote!
---