Room
Evacuation Maps: Hotel & Motel
Each year Pictographix provides thousands of guest room evacuation route signs to the hospitality industry. Professionally designed EvacMap designs meet local fire code requirements and each project is branded as needed with corporate logo/colors.

Floor plan simplicity and sign legibility are paramount; re-drafted floor plans are labeled with fire and safety equipment icons and signs can include the State Liability Act as needed. Visit our evacuation map store and select from a wide range of evacuation map sign displays.
Get a Free Quote for your Evacuation Map Sign Project Today.
Determine the location and quantity of EvacMap signs required.
Will fire safety information (equipment/instructions) be required on the signs?
Determine the sign size - Consider the floor plan size and safety information required on diagrams.
Determine the sign type - Vandal resistant and durable signs are recommended.
Is the Hotel/Motel Innkeepers Laibility Act required on the diagrams?
Are earthquake instructions or Areas of Rescue Assistance required on diagrams?
Contact your local Fire Inspector to obtain local fire code requirements (recommended).
Complete and forward the Quote form to receive firm pricing.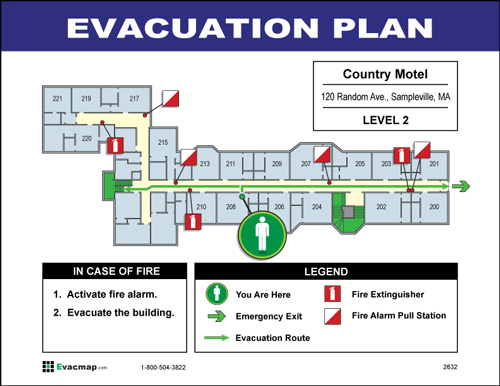 National Fire Code Requirements for Building Evacuation Diagrams



Hotel rooms, dormitories and shelters are classified as "Transient Occupancy Buildings". The International Fire Code (IFC) require the posting of evacuation diagrams in each guest room and at each elevator bank.

- Posted evacuation map (sign) on the back of each guest room door or wall adjacent to the door.
- Posted evacuation map (sign) at elevator (include staircase entrances; California only).
- The emergency evacuation map must indicate the viewer location (You Are Here).
- A minimum of two evacuation routes to fire exits must be shown.
- Fire extinguishers and Fire Alarm Pull Stations must be indicated where required.
- Written safety instructions (Call 9-1-1) as indicated by your fire code or Emergency Action Plan.
- Signs should be permanently fastened.
- Vandal and tamper resistant signs are recommended.
Hotel/Motel Innkeepers Liability Act
The State Innkeepers Act and/or Room Rates can be indicated seperately or on EvacMap signs is needed (call to discuss).
Archived Projects
All building evacuation diagram projects are catalogued and stored electronically on secure servers; if you ever require re-prints or diagram revisions, we are here to help.
For over 20 years, Pictographix has provided thousands of code compliant building evacuation diagrams to hotels, motels and resorts across North America and the Caribbean. Know that your safety sign project is in good hands.
Call 1-800-504-3822 or email us at info@evacdisplays.com for free consultation.