Evacuation Map Print Services
BRAL - Brushed Aluminum
Brushed Aluminum Surface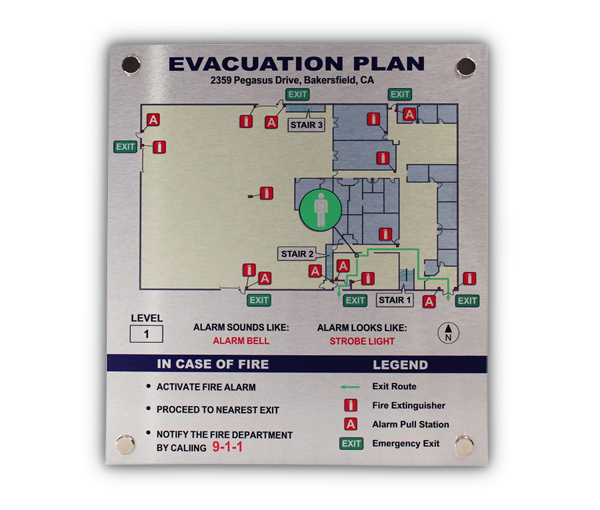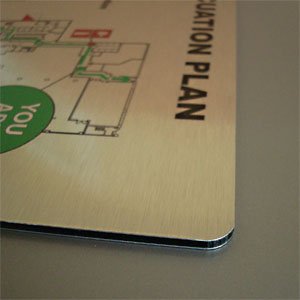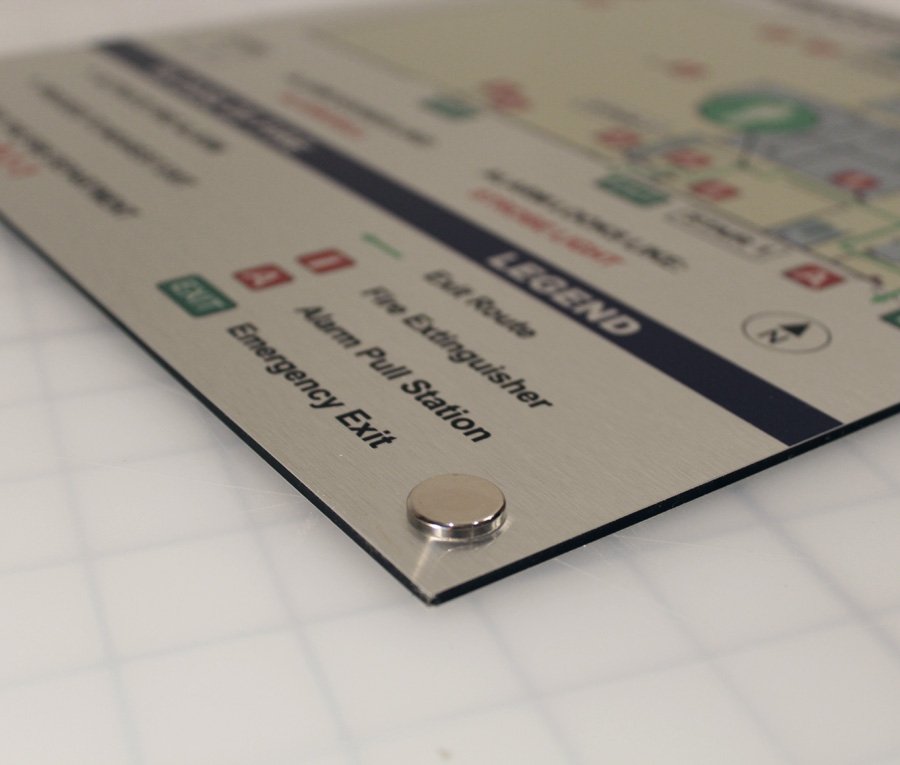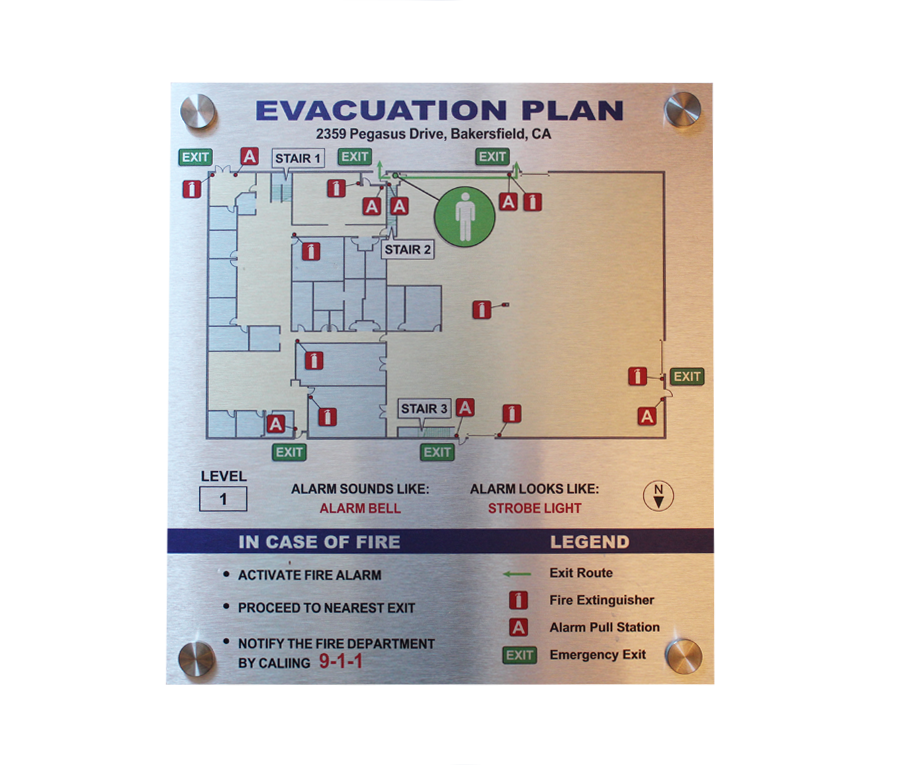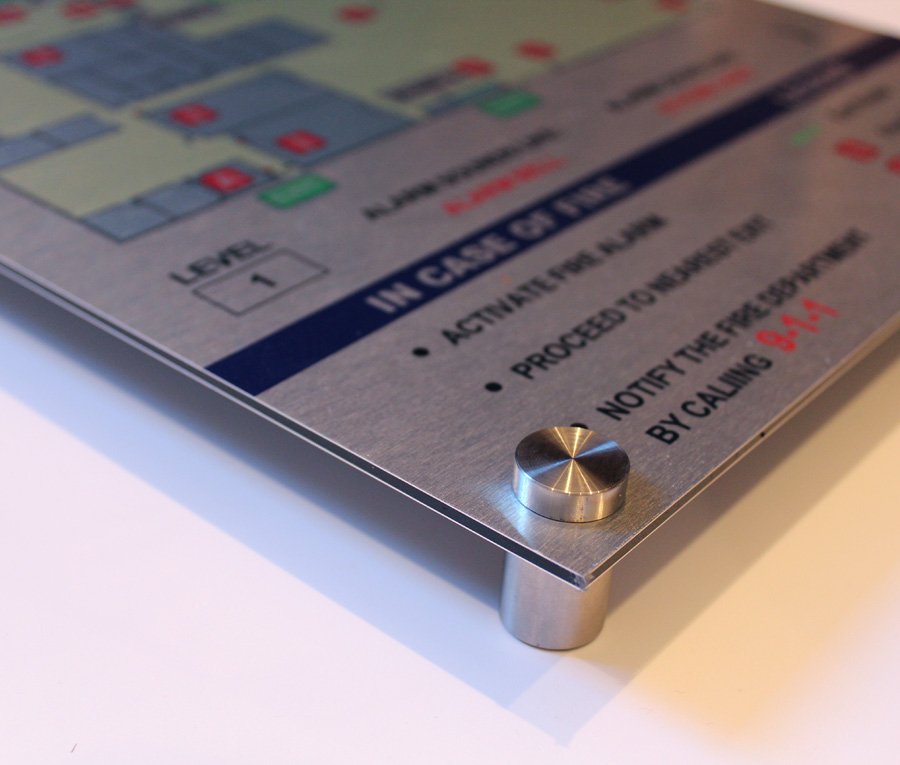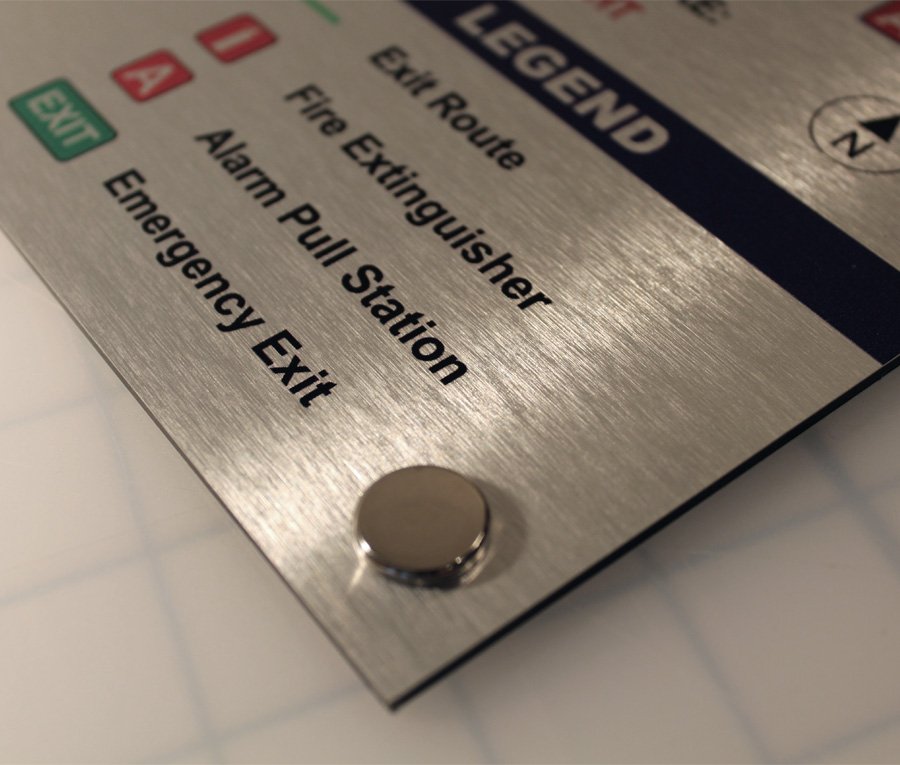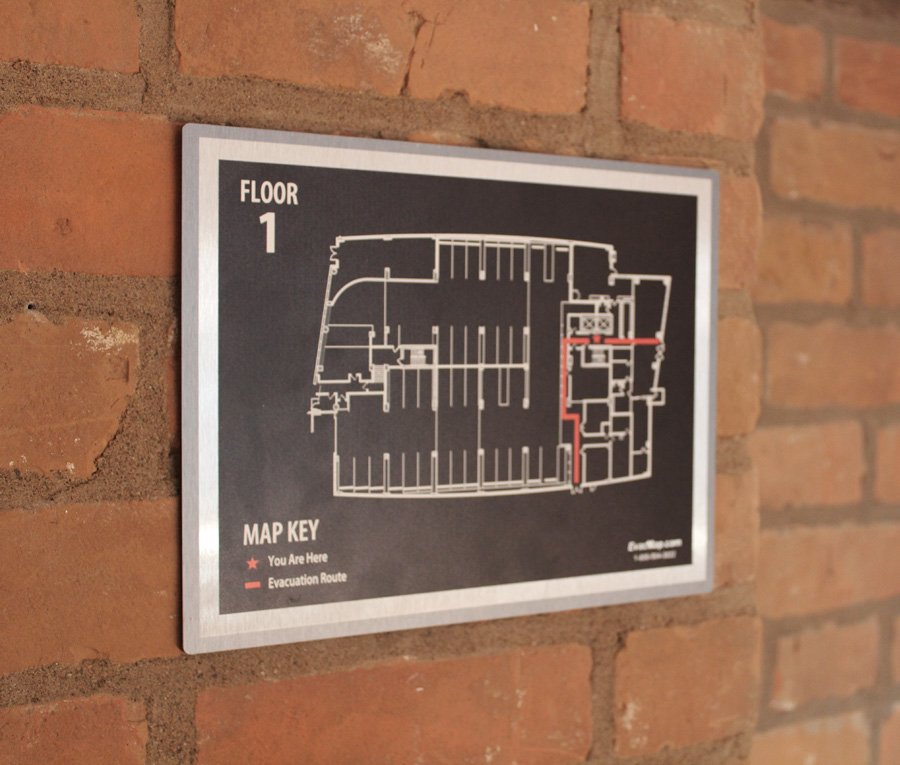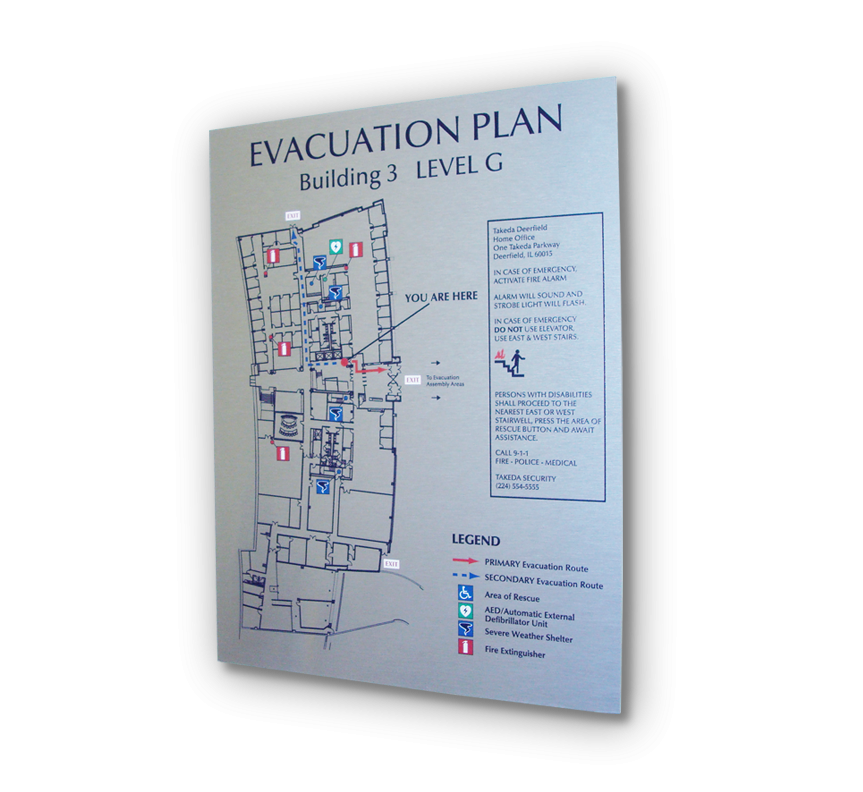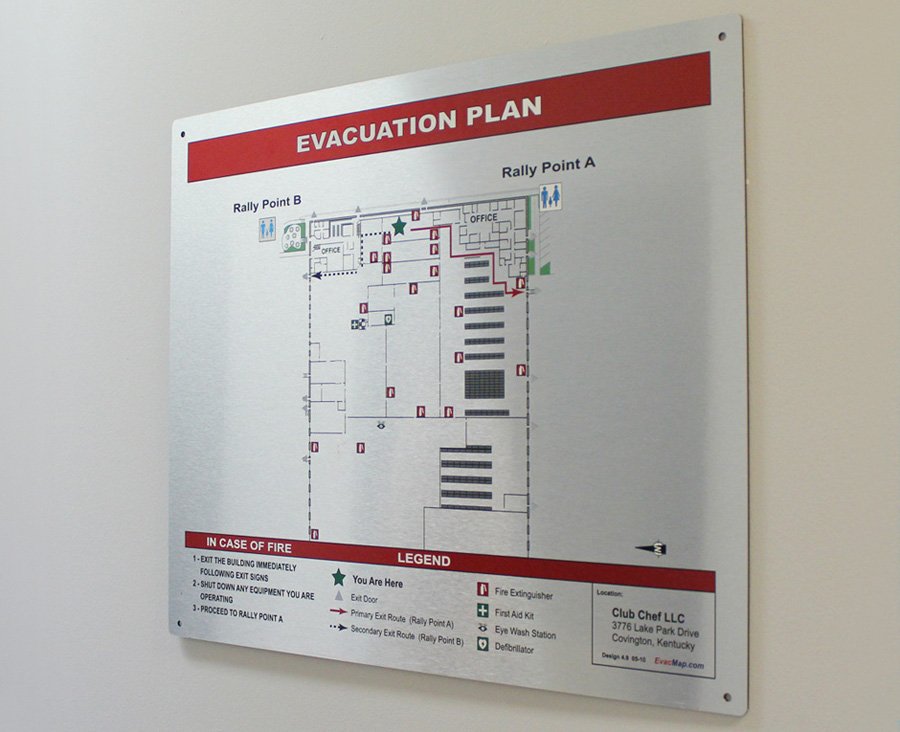 8.5" x 11" print starting at $29.75 (3 units or more)
Brushed Aluminum (BRAL) DiBond Placard




Economic Digital Print - Great for hotels, schools, hospitals and industry!
Thickness: 1/8"

Material: Composite, double-sided aluminum sign with PVC core

Surface: Grey, low-glare surface

Print: High resolution surface print to metal

Ink:

UV cured quality inks; environmentally friendly (non-solvent based)

Mounting:

Pre-drilled holes for mounting hardware or VHB tape (tape/hdw. additional)

CNC router cut: Comes with rounded corners and pre-drilled mounting holes

Custom sizes: any size, up to 3' x 4'
High Durability - Waterproof - Metal Surface
Easy to wash, impact resistant

!

Shatter proof

Direct print to matal - Not a laminated vinyl sticker

Indoor / Outdoor applications
Recommended Sizes:

8.5"x11" | 8.5"x14" | 10"x12" | 12''x12'' | 11''x17'' | 18''x24'' | 24''x36'' | Custom sizes
Sign Options:
Pre-drilled mounting hole

Straight or rounded corners
Mounting Options (additional)
Very High Bond (VHB) tape
Brushed Aluminum Placard (BRAL)
Thickness: 1/8"
Size: CNC router-cut to any size/shape; straight or rounded corners (included)
Material: Di-Bond, brushed aluminum surface (pvc core)
Surface: White, non-glare surface
Print: High resolution digital print to white aluminum surface
Ink: UV cured quality inks; environmentally friendly (no solvents used);

Indoor/Outdoor

Mounting:

Pre-drilled holes for screw/hardware or VHB tape (tape/hdw. additional)
Suggested Sizes
8.5"x11" | 8.5"x14" | 10"x12" | 12''x12'' | 11''x17'' | 18''x24'' | 24''x36'' | Custom sizes
Included Options
Pre-drilled mounting holes

Straight edge (90) or rounded corners
Mounting Options (additional)
Should I choose a sign holder or print to a placard?
Sign holders (casements) and printed placards each have specific advantages and disadvantages.
Sign Holders/Frames
Sign holders (frames) require that artwork be printed to paper or thin film media and inserted into the sign holder.

Sign holders allow for removable prints which can easily be replaced if future diagram changes are required.

Sign holder paper inserts can warp/disfigure

in high humidity environments.

Sign holders do not offer casement size flexibility as is available with a printed plaque product.

Photoluminescent sign holders (glow in the dark) are only available in a frame format.
Placards/Prints
Placards are well suited for high humidity and are more durable.

Placards can be cut to any size/shape using our CNC routers.

Placards are available in plastic metal or acrylic.

Placards can be mounted with decorative fasteners, including Stand-Off hardware.

Placards are light and can be mounted with VHB adhesive tape.

Placards must be replaced if revisions to diagrams are required.
Which placard is the most durable and vandal resistant?
The AC 1/8'' acrylic plaque is our most durable and vandal resistant sign. We developed this product for industrial applications where durability and water resistance is a must. It has since become our flagship sign product for schools and dormitories. This composite sign has artwork reverse printed (sub-surface) to 1/8'' acrylic and a sheet of Sintra (PVC) is applied to the back. The sign is hermetically sealed between two layers and is protected from scratches and environmental hazards. The AC plaque can be pre-drilled for mounting with standard screws or stand-off hardware application (stand-off spacer lifts sign from wall to reduce mold buildup and assists with maintenance).
How much do the products cost?
All sign orders are custom-made and printed to client specifications and due to the uniqueness of each project and volume order discounts; prices are not posted online. To receive pricing, please complete the quote request form and specify your project needs; a firm quote would be provided within 24 hours.
What is the payment policy?
Payment Terms are indicated on each quote. All custom sign orders require an initial deposit (50%) and balance of payment is required prior to delivery. Existing clients and clients with approved credit are extended NET 30 day payment. Payment by company check or credit card (Visa, MasterCard, Amex) is accepted.
If we require evacuation diagram artwork, how do I proceed?
We provide expert evacuation diagram sign services and would be please to assist with artwork preparation. You will be required to provide architectural style floor plans and additional project information receive a firm project quote. Our designers will create building evacuation diagrams customized to your facility and budget. All diagrams are customized to meet local fire ordinance, OSHA and IBC/IFC code requirements. Always contact your local fire inspector for regional requirements before embarking on a facility-wide evacuation diagram sign project.
Can I have any type of image printed?
Yes. Our display solutions are not only for evacuation maps and safety signage. You can have any image of your choosing printed whether it be commercial signage, directories or artistic creations.
Why should I choose Evacdisplays as my sign provider?
For over 15 years, Pictographix, Inc. has provided expert evacuation sign systems to meet the needs of our varied client base. We employ the latest digital printing and CNC router technology, offer free consultation, expert design services and have assembled the largest selection of quality displays and sign holders online. Whether a durable sign is required for manufacturing or an custom aesthetic display is needed for the front office; purchasing your evacuation signs online has never been easier!

Artwork Guidelines
Clients are welcome to send us finished artwork for printing. Client provided artwork can be uploaded online; please read our Print ready Guidelines.
Your digital artwork must be the same size as your chosen print size.

All important graphics should be 1/4'' away from the art board edge (

see example

)

If sign mounting hardware is used, ensure hardware does not obstruct your graphics.

Fill out the online

Quote Form

and indicate graphics services are not required.
What type of file are accepted?
We process all common image formats, including JPEG, TIFF, BMP, PNG, etc.
Our preferred image type is JPEG, which produces excellent print results! We do not accept PDF or DWG files.
Image resolution?
All image files should be high resolution, 300 dpi, for best print results.
How large of a file can I upload?
You can upload files up to 50 MB in size. Should your images be larger than 50 MB, the best place to start would be checking that they are saved in JPEG format (TIFF's generally produce larger file sizes, at no real advantage for print quality). If you need further assistance with file sizing, please contact us for details.
Upload your file to our server
Call our office to receive a file upload code and upload your files to our server.
Ordering Process
To obtain a firm quote, chose a sign product, indicate options and Add to Quote. Select Get a Quote and indicate your information and whether graphic services are required. Press Send; you will receive a firm quote within 24 hours.

Order Confirmation / Payment / Delivery

What type of printing is used?
Wide format, full color digital printing allows for prints up to 4'x8'. Prints to virtually any media (Sintra PVC, Acrylic, Brushed Aluminum). UV cured inks are standard.


How long does production take?
Production takes about 5-10 business days from the time the order is processed.



How long will it take to receive my package?
Product delivery will vary depending on your location and the requested shipping method. Once your package is shipped you will receive a tracking number.