Evacuation Map Print Services
AC Print - Acrylic 1/8" (sub-surface)
Artwork Hermetically Sealed between Acrylic and PVC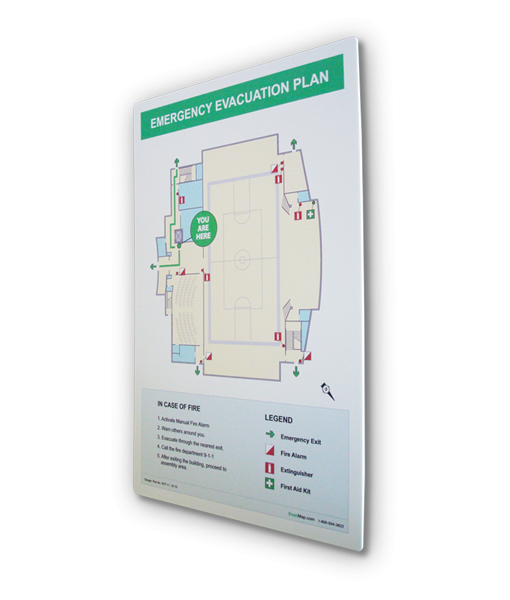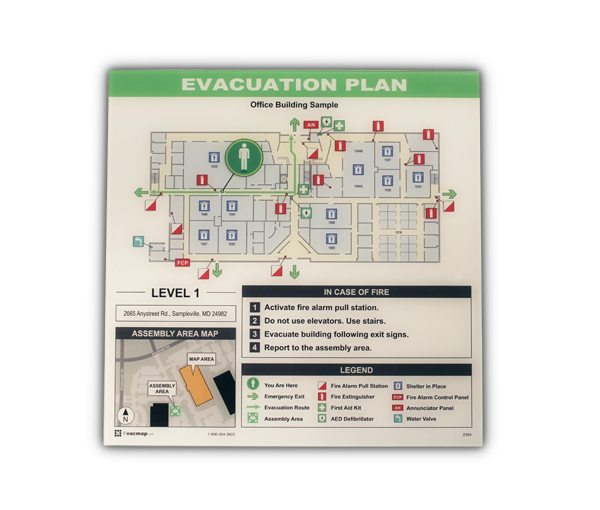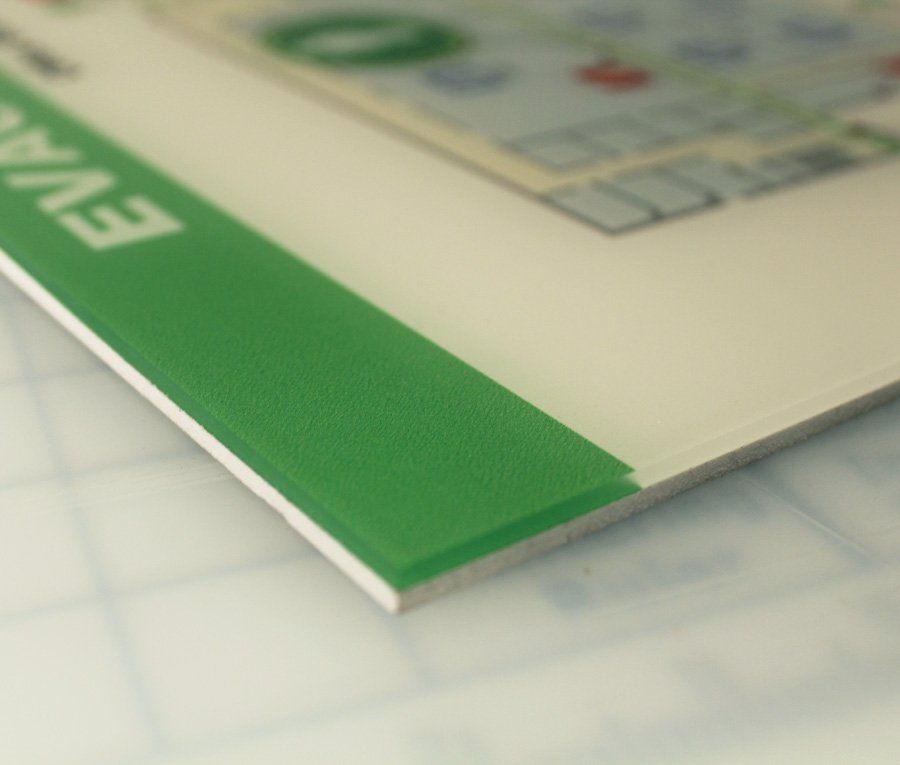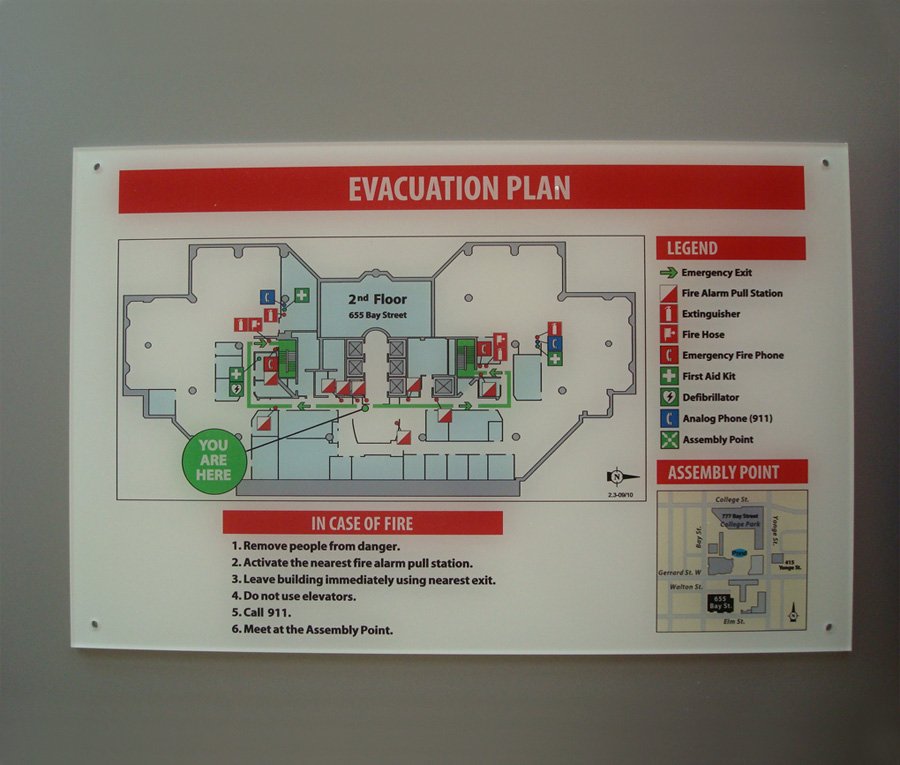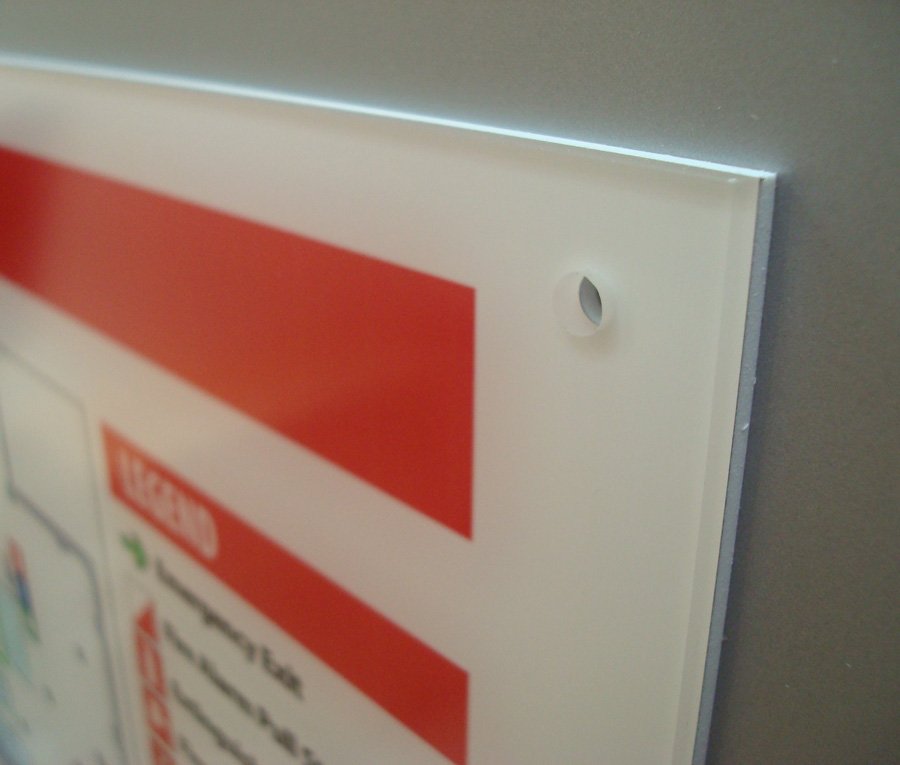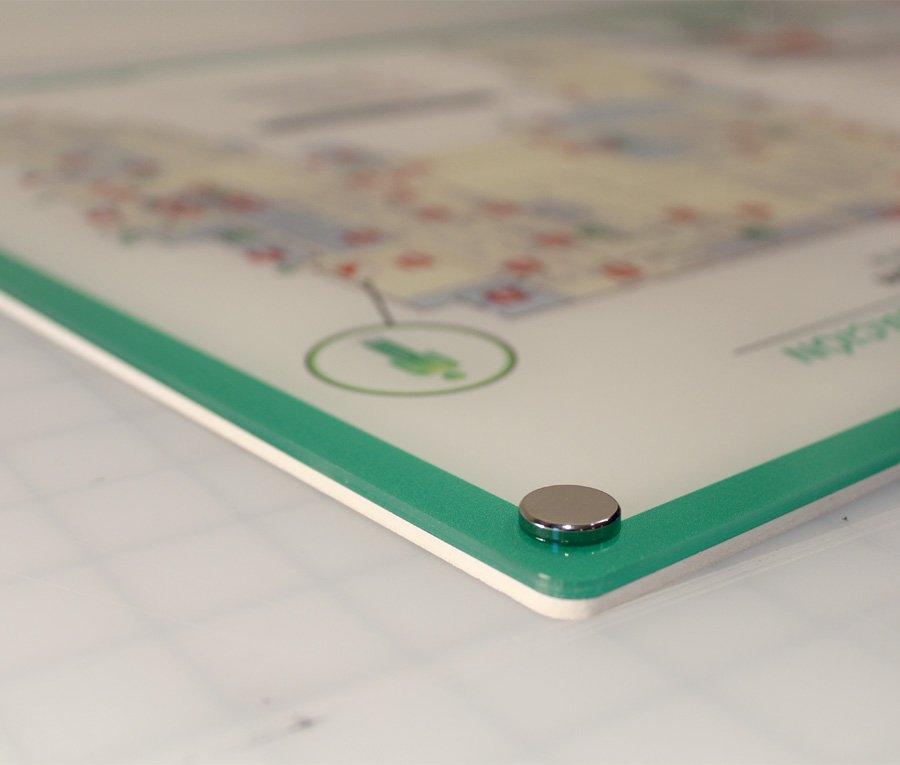 8.5" x 11" print starting at $43.00 (3 units or more)
Acrylic (AC) Placard




Our Most Durable Placard - Great for hotels, schools, hospitals and industry!
Thickness: 3/16"

Material: 1/8" Acrylic with laminated 1/16" pvc backer

Surface: Clear, non-glare

Print: High resolution sub-surface print to acrylic

Ink:

UV cured quality inks; environmentally friendly (non-solvent based)

Mounting:

Pre-drilled holes for mounting hardware or VHB tape (tape/hdw. additional)

CNC router cut: Comes with rounded corners and pre-drilled mounting holes

Custom sizes: up to 3' x 4'
High Durability - Waterproof - Impact Resistant
Easy to wash, impact resistant

!

Hermetically sealed artwork

Shatter resistant

Direct print to acrylic - Not a laminated vinyl sticker

For indoor applications only
Recommended Sizes:

8.5"x11" | 8.5"x14" | 10"x12" | 12''x12'' | 11''x17'' | 18''x24'' | 24''x36'' | Custom sizes
Sign Options:
Pre-drilled mounting hole

Straight or rounded corners
Mounting Options (additional)
Very High Bond (VHB) tape
Order Process
Select a product, choose your options and add it to the quote request form. Fill in the required information and submit your quote request form. You will receive a firm quote within 24 hours.

What type of printing is used?
Wide format, full color digital printing allows for prints up to 4'x8'. Prints to virtually any media (Sintra PVC, Acrylic, Brushed Aluminum). UV cured inks are standard.

How long does production take?
Production takes about 5-10 business days from the time the order is processed.

How long will it take to receive my package?
Shipping times will vary depending on your location. Once your package is shipped you will receive a tracking number immediately.

Artwork Guildelines
1. Use an artboard that is the same size as your chosen print size.
2. Make sure all important graphics are at least 1/4'' away from the edges of the artboard.
What type of file should I upload?
We process all common image formats. These include JPEG, TIFF, BMP, PNG, etc. Our preferred image type is JPEG, which produces excellent print results! We do not accept PDF documents.
Quality Check!
All image files should be high resolution (300 dpi) for best print results.
How large of a file can I upload?
You can upload files up to 50 MB in size. Should your images be larger than 50 MB, you should check whether the files are saved in JPEG format (TIFF's generally produce larger file sizes, at no real advantage for print quality). If you need further assistance with file types or sizing, please contact us for details.
Why should I choose Pictographix as my safety sign supplier?
With over 16 years of design experience, we are experts in evacuation diagram development and are dedicated to customer service. Our EvacMap diagrams are developed not simply to meet regional fire code requirements, but also for maximum user legibility. We employ modern print and CNC sign fabrication technology to provide clients with the highest quality sign product. Our displays are suitable for any environment and a wide selection of casements and placards that are designed for commercial, industrial and public facilities.
Should I choose a sign holder with paper inserts or print directly to placards?
Since sign holders (casements) and printed media (placards) have advantages and disadvantages. Your product choice will depend on your specific needs.
Casements require a paper print insert. Removable prints provides the ability to easily replace the artwork if changes to the floor plan or safety equipment is required. The downside to paper prints is that depending on the paper, colors tend to fade and the paper can disfigure with humidity.
Printing artwork to metal or acrylic sign placards is permanent. If changes to the artwork is required, the placard must be discarded. However, this sign type is usually more economical, vandal resistant, can be made-to-measure and the ink is more resistant to fading (UV resistant). Our sign displays can also boost the appearance of a space using interesting sign material, decorative screw caps or stand-off hardware. Placards are also easily mounted with VHB adhesive tape.
What is the most durable and vandal resistant display choice?
The 1/8'' AC, acrylic composite plaque, is our most durable and vandal resistant sign. This product is unique because the artwork is printed on the reverse side of the acrylic and a sintra (PVC) backer is applied to hermetically seal the artwork. Your artwork is protecting from scratches, humidity and tampering. Mount placards directly using screws for maximum vandal resistance.
How do I obtain product prices?
Please fill out a quote request form indicating the product, size and available options and a firm quote within 24 hours; volume discounts are offered.
How can I get evacuation map artwork produced?
If interested in pricing for evacuation diagram graphic development, simply complete the Quote Form, enter your project requirements and forward your floor plans for a review. A quote will be issued and if approved, detailed instructions will be forwarded on forwarding us your data. Our expert designers will create evacuation diagrams that meet OSHA, IBC and local fire code requirements.
Can I have any type of image printed?
Our print services are available for any artwork or graphic. Quality prints to any median, including canvas is available. As long as your artwork file is high-resolution JPEG (300 dpi), any image, whether it's commercial signage, a directory or your artistic creation can be printed to any size or shape.