Manufacturing/Warehouse Building Evacuation Maps
Evacuation diagrams for large facilities must be carefully designed so that text and floor plan diagram with safety data remain legible.

Similarly, signs installation in "clean rooms" or "wash-down" areas (wet rooms) require displays that are waterproof, can be easily maintained/cleaned and are mounted so air can circulate behind the sign to reduce any mold build-up.
Our "Zoned EvacMap" designs are carefully designed for maximum legibility regardless of your facility size; and since we're in the printing business, oversized prints (up to 36" x 48") for maximum legibility are available. High impact/water proof displays with stainless steel standoff hardware are available to meet any demanding environment.
For Large Facilities (>50,000 sq. ft./level):
- Floor plans should be sectioned into egress zones with 2 evacuation routes to exits or
- Large diagrams/signs can be printed to maintain floor plan and safety data legibility.
(ask about our large size metal & acrylic placards)

Facilities with Wet or High Humidity Environments:
- Do not use paper prints in sign holders in damp areas.
- Print artwork to waterproof

acrylic, PVC or aluminum

sign substrates.
- Mount signs using

Stand-Off hardware

to minimize mold build-up behind signs.

Facilities with post evacuation Assembly or Muster Point:
- Custom Site-Map shows your Assembly Area, building foot print and access roads on all diagrams.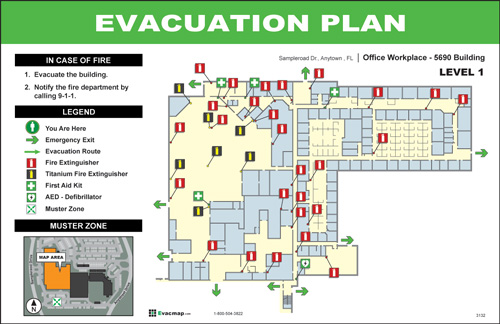 Post an Evacuation Map in your Lobby/Front Entrance.
An evacuation map provides First Responders with vital floor plan details, utility shut-off points and to hazardous chemicals etc
---
Call 1-800-504-3822 to speak with a project manager or
Send us project details to receive a Free Quote!
---