Getting Started
Start your Building Evacuation Sign project with a Quote.
Receive a Quote tailored to your needs:
Send us your details (Get Quote) to receive pricing - it's that simple!
We provide turn-key evacuation map graphic services with specialty printing or sign holders.

We provide printing & framing services for clients with Print-Ready artwork.

Evacuation maps can also be delivered electronically as print-ready files (PDF).
---
STEP 1 - Choose whether a plan holder or a printed plaque is required.
Select a printed plaque or architectural sign frame to accommodate any budget or aesthetic requirement.

Artwork is printed to paper and
inserted into a sign holder.

Artwork is printed directly to
metal, acrylic or PVC.
(plaques can be made to any size)
STEP 2
Based on the size of your floor plans and local fire code, determine the sign size and quantity that is best suited to your project.
New York City and California (Title 19 - Emergency Evacuation Diagrams), have specific sign size requirements.
STEP 3
Create a quote request by adding items from the product selection pages (Casements or Prints).
Submit your Quote request and a firm quote will be issued by e-mail within 24 hours.
STEP 4
(Required for Printing Plaques or other client supplied artwork).
Once you receive our quote a file upload ticket would be issued if proceeding with a print project.
---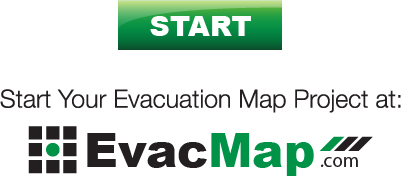 Custom Fire Evacuation Diagrams Sign Holders and Prints
Please visit our dedicated site EvacMap.com for additional details.