Evacuation Map Print Services
AGE Print - Acrylic 1/4" or 3/8"
AGE: Stand-Off Sign System - Glass-like appearance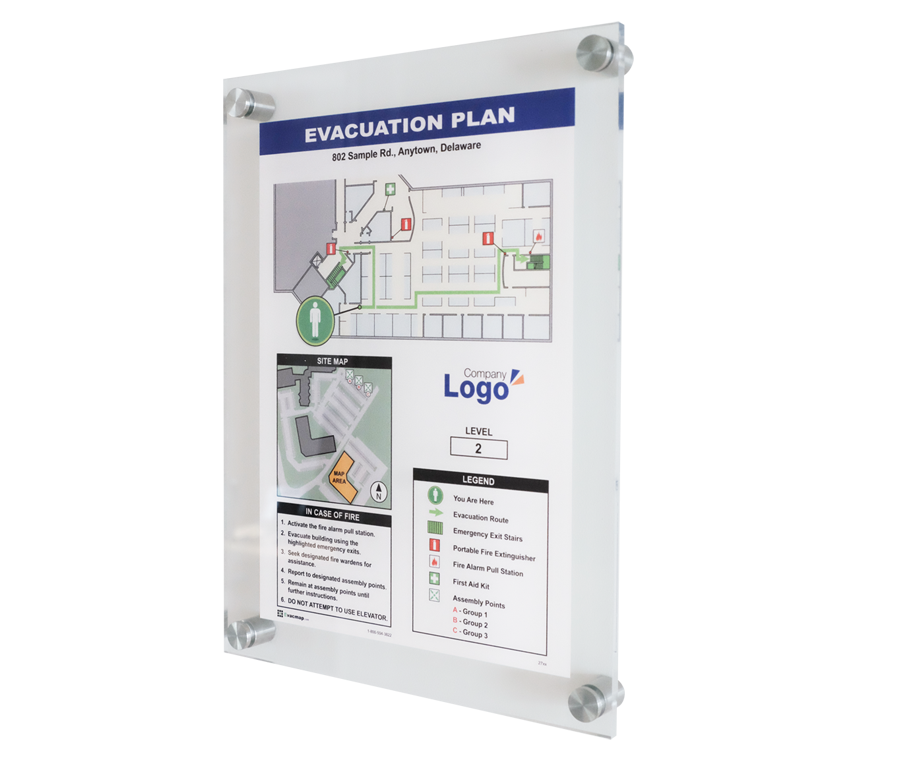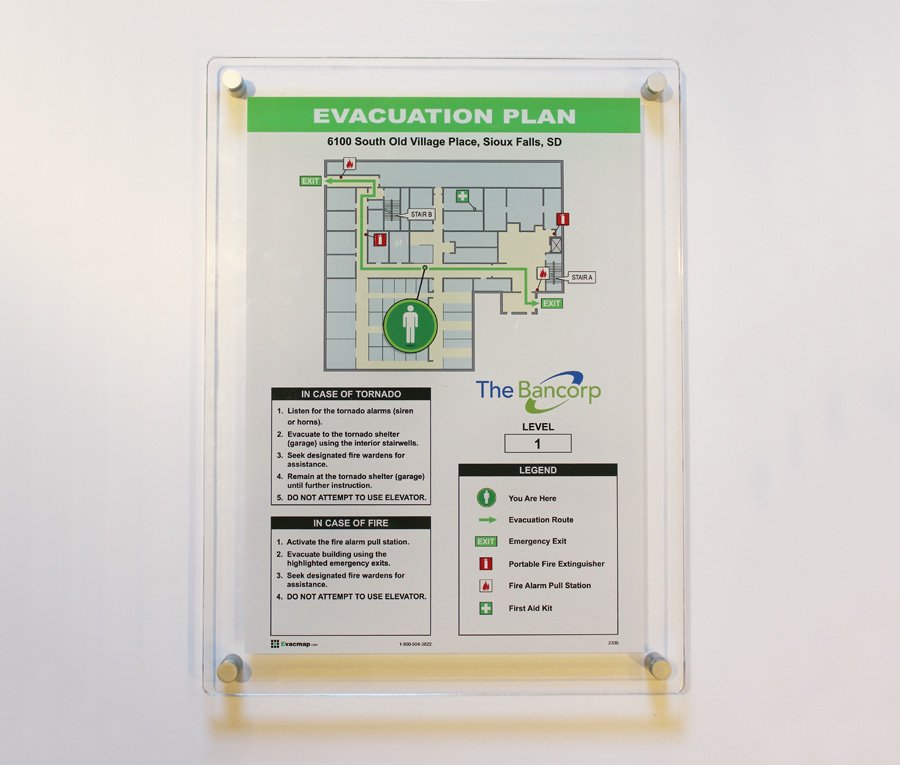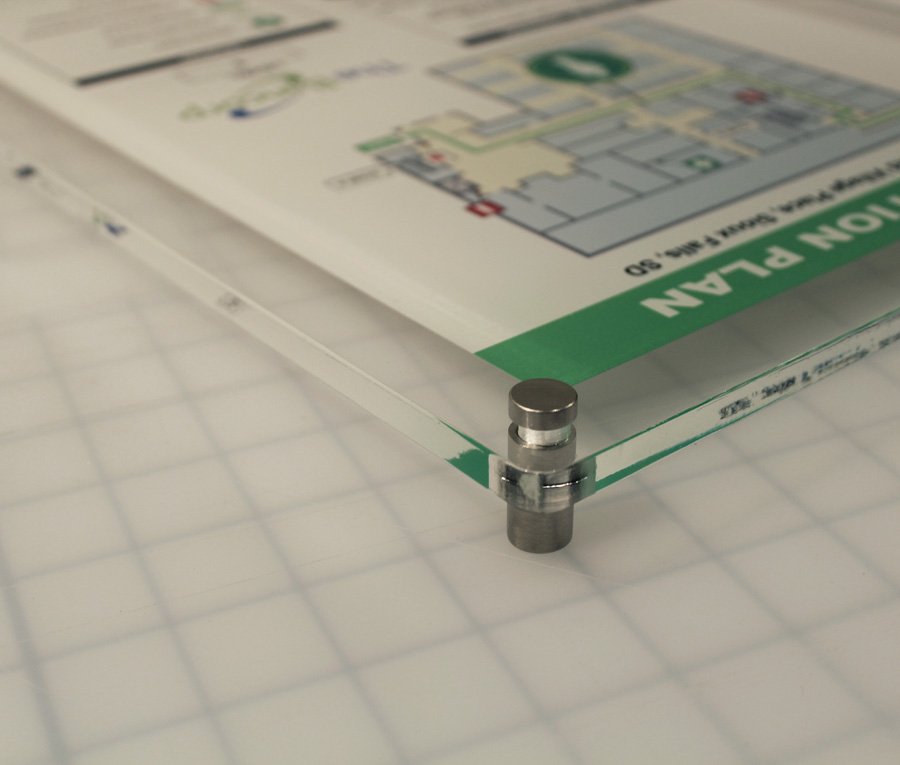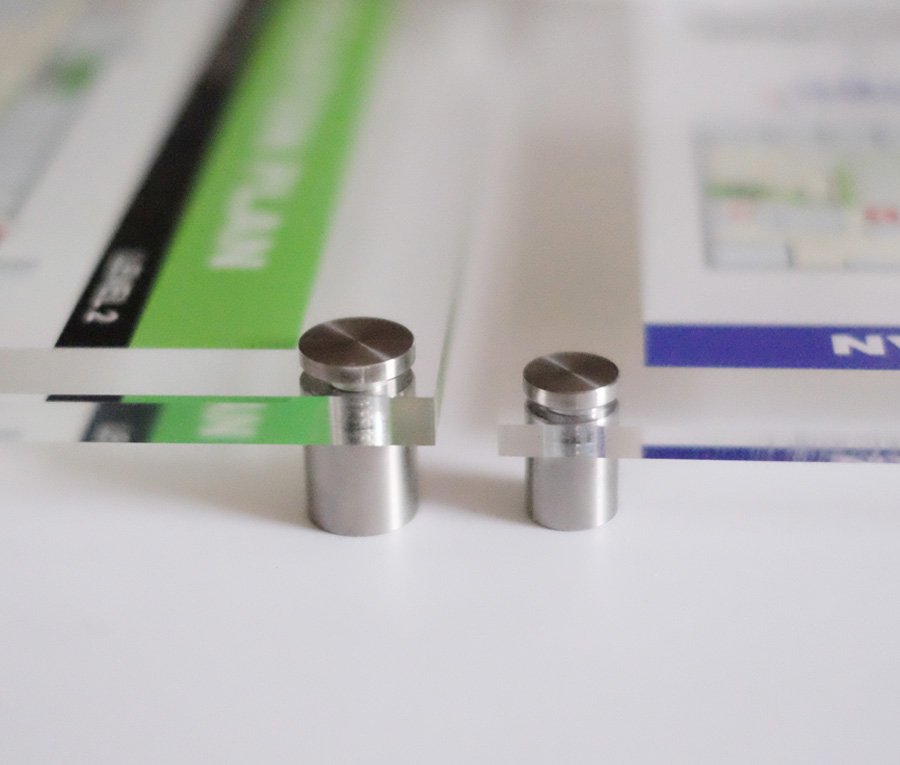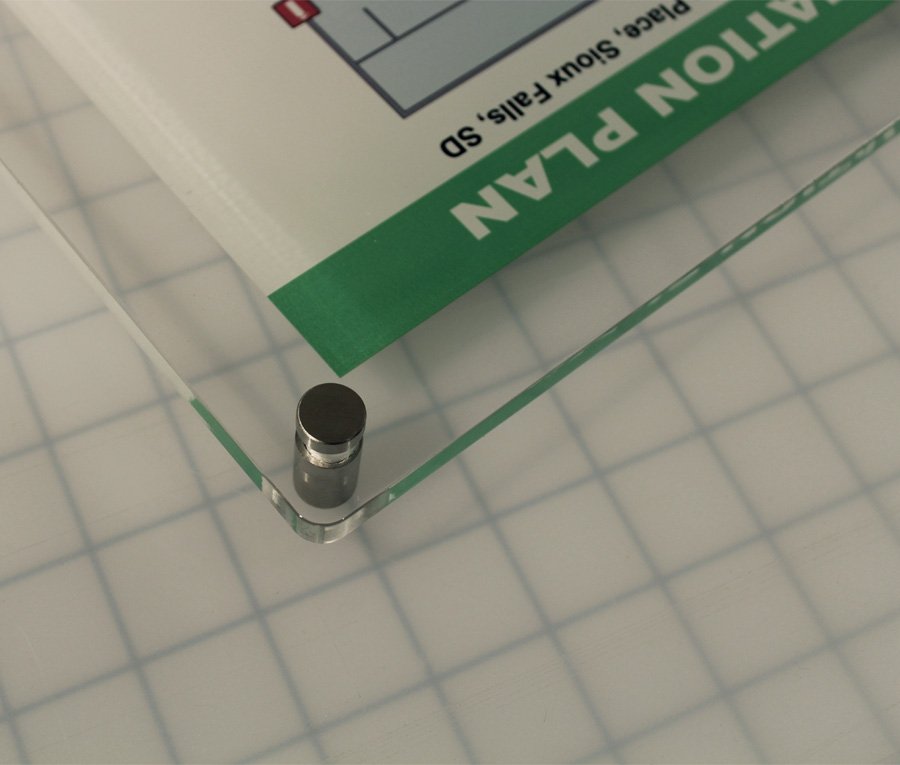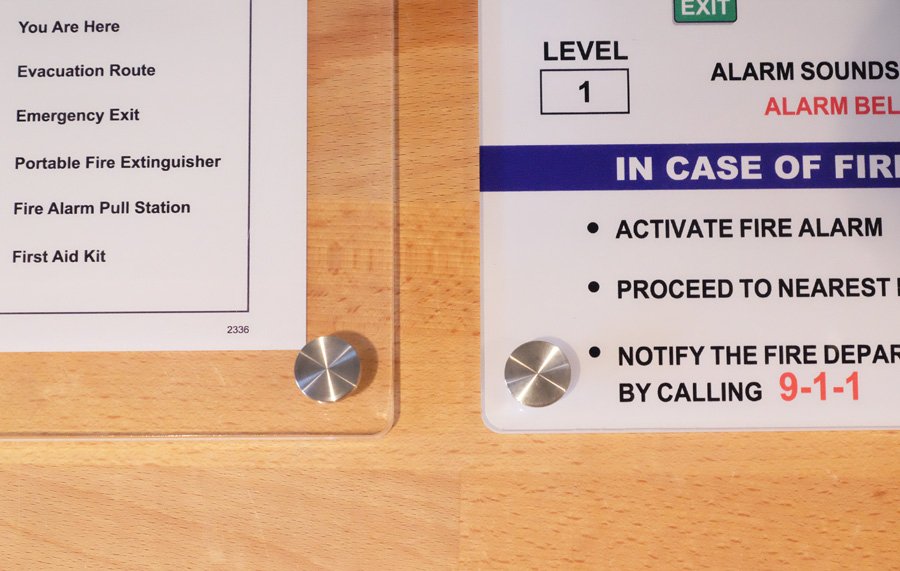 8.5" x 11" print starting at $44.25 (3 units or more)
Product Specifications:
High gloss; glass-like appearance - polished edges

Sign Thickness options: 1/4" or 3/8" thick

UV cured quality inks - non-solvent based

Sub-surface digital print to cast acrylic

High resolution print direct to acrylic - Not a sticker

CNC router-cut

Custom-sizes available - (up tp 2'x3')
Size Options:

8.5"x11" | 8.5"x14" | 10"x12" | 12''x12'' | 11''x17'' | 18''x24'' | 24''x36'' | Custom
Thickness Options:
Fabrication Options:
Artwork can be printed to sign edge (Bleed) or with 1" see through margin

Pre-drilled mounting holes for Stand-Off hardware

Straight or rounded corners
Wall Mounting:
Order Process
Select a product, choose your options and add it to the quote request form. Fill in the required information and submit your quote request form. You will receive a firm quote within 24 hours.

What type of printing is used?
Wide format, full color digital printing allows for prints up to 4'x8'. Prints to virtually any media (Sintra PVC, Acrylic, Brushed Aluminum). UV cured inks are standard.

How long does production take?
Production takes about 5-10 business days from the time the order is processed.

How long will it take to receive my package?
Shipping times will vary depending on your location. Once your package is shipped you will receive a tracking number.

Why should I choose Evacdisplays as my signage solution?
Evacdisplays offers a broad selection of quality evacuation plan holders and displays specifically designed for commercial, industrial or public facilities.
If vandal resistance or if high humidity and hygiene are a concern, a specialized solution can be tailored to your facility
Should I choose casements or direct printed plaques?
Both casements and printed media have their own advantages. Casements use a paper insert which provides the ability to easily update artwork if floor plans change due to renovations. Some casements offer the photoluminescent option (glow in the dark).
Printed media is a more cost effective solution where artwork is printed directly to a plaques surface. Printed plaques can boost the appearance of a space using decorative screw caps and stand-off hardware, or be easily mounted with VHB adhesive tape.
What is the most durable and vandal resistant display choice?
Our acrylic composite plaque (AC) is the most durable and vandal resistant display. The evacuation diagram artwork is sub-surface printed (reverse side) of 1/8" acrylic and a sintra (PVC) backer is applied. Your artwork is hermetically sealed between two layers and is protected from any damage resulting from scratches, tampering and humidity. Mount directly to wall surface using screws for maximum vandal resistance (call about our mold prevention sign system designed for clean rooms).
How much do the products cost?
Due to volume discounts, changing prices and predatory competitors, our prices are not posted online. Please fill out a quote request form and we will gladly provide you with a firm quote within 24 hours.
I don't have evacuation map artwork. How can I get evacuation map artwork produced?
Since 1999 Pictographix has specialized in the design and production of custom building evacuation diagrams and safety maps. We produce thousands of EvacMap diagrams each year! Simply visit our sister site: www.Evacmap.com to otain a quote and to start your evacuation map project.

Our friendly staff and expert designers will guide you throught every step so your evacuation maps will meet NFPA, OSHA, IFC and local fire codes (special design requirements for California and NYC projects - please call).
Can I have any type of image printed?
Yes. Our display solutions are not only for evacuation maps and safety signage. You can have any image of your choosing printed whether it be commercial signage, directories or artistic creations.
Artwork Guildelines if Submitting Print-Ready Artwork
IMPORTANT

If supplying us with print-ready artwork for the AGE plaque, your artwork must include a 1" margin around all sides of your artboard. This 1" area must be clear of any artwork (ink) so we can apply flame treatment to the sign edges.
Note also that the AGE 3/8" plaque requires Stand-Off hardware to mount the sign to the wall surface. Appropriately sized holes would be drilled in the sign corners to accommodate your selected Stand-Off hardware. Review our selection of Stand-Off's appropriate for your sign size.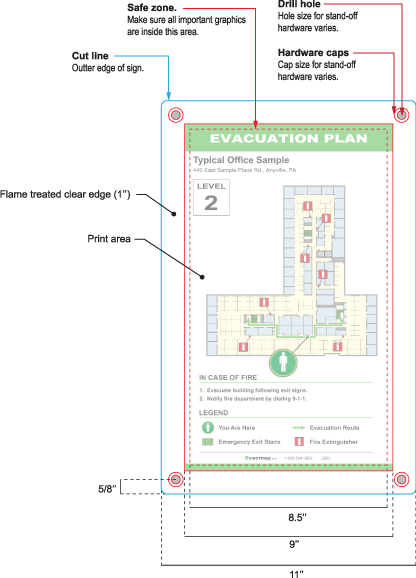 What type of file should I upload?
We process all common image formats. Normally your digital camera or graphic design program will produce these formats. These include JPEG, TIFF, BMP, PNG, etc. Our preferred image type is JPEG, which produces excellent print results! We do not accept PDF or DWG documents.
Quality Check!
All image files should be high resolution, 300 dpi, for best print results.
How large of a file can I upload?
You can upload files up to 50 MB in size. Should your images be larger than 50 MB, the best place to start would be checking that they are saved in JPEG format (TIFF's generally produce larger file sizes, at no real advantage for print quality). If you need further assistance with file sizing, please contact us for details.